Thank You, Thank You, Thank You!!!
Our Nov. 15 RAICES benefit raised $334 ($275 onsite from attendees, and the rest from online donations)!  A great time, with great friends, and so happy to support this organization that is doing so much to help the helpless at our borders, and immigrants throughout the US, trying to find their American dream!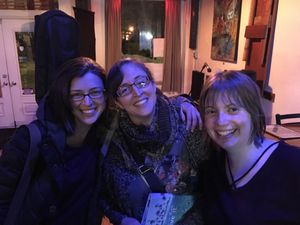 Alexis Marie Thompson, JuliAnne Wright, and Lindsay Dragan
I had a BLAST at the Acoustic Brunch Thanksgiving food drive show, on Nov 24 at the Thunderbird Cafe!  They recently moved the brunch to this location, and the atmosphere is WONDERFUL! So excited to be a part of it, and thrilled to be invited back for their MOTHERS DAY show in May!  Here's a snippet of my performance (for the full show, JOIN MY MAILING LIST & you'll get access)!  Other featured artists that made an impression on me included OHM Project & the Sam Stuckey Band - highly recommend both if you can get to a show!
JuliAnne Wright performs original song, February Grey